Our strategic Web-centric Marketing Management process allows you to relax and concentrate on running your business, knowing that your "virtual marketing department" is working to dramatically improve your reach and results, while reducing your overall advertising costs at the same time.
We are a full service, multi-channel consulting firm with the resources to actually implement the strategies and tactics we recommend.
The core of the system is your "capture enabled" website, with automatic email followup capability: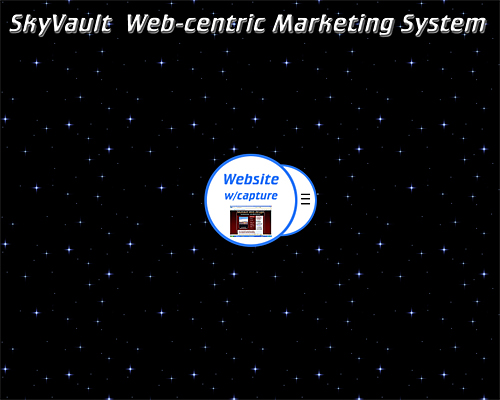 Then, the system puts your company's website in a "switchboard" position, connecting and amplifying all of your company's other marketing efforts - online and offline. In it's purest online form, it looks like this: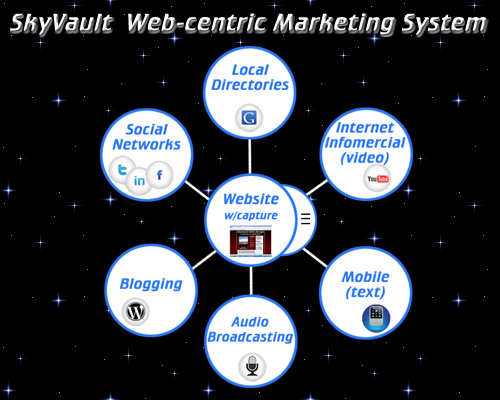 The SkyVault Web-centric Marketing System:
Local Directories. Internet Infomercials. Audio Broadcasting. Social Networks,
and more - all coordinated, tracked, and amplified by your company's
capture-enhanced Website.

By channeling all of your marketing through your website, you'll gain flexibility and control over your campaigns, while dramatically expanding your company's visibility at the same time.
1) Flexibility - you can switch up your media mix any time you like. Plug in your current advertising without spending more. Add newer options; remove lower performing methods.
2) Control - Suddenly, all your advertising is trackable. You'll be able to find out exactly how well each of your media is working, and how each contributes to your ROI. This makes your marketing budget decisions much easier.
3) Visibility - As your web-centric empire grows, you get the benefit of a greatly enhanced profile. You appear larger in your prospects' minds, because they see your company in multiple media formats. You become known as exactly what you are - a dominant player, and an expert in your niche.
4) Cost Effectiveness - A web-centric strategy does not replace traditional marketing communications tactics and sales channels; it makes them dramatically more productive, at a much lower cost.

Questions? Check out our awesome FAQ page.

Ready to take your business' performance to the next level?

Start with a Free 15-minute Mastermind consultation. Let's clarify what you want your company to accomplish, and discuss how joining forces with us will help you reach those goals.
Remember, we'll do much more than just give you advice. We'll bring the capabilities of our 5 specialized production teams to implement your web-centric marketing strategy.
Just press the button below - and let's get started.